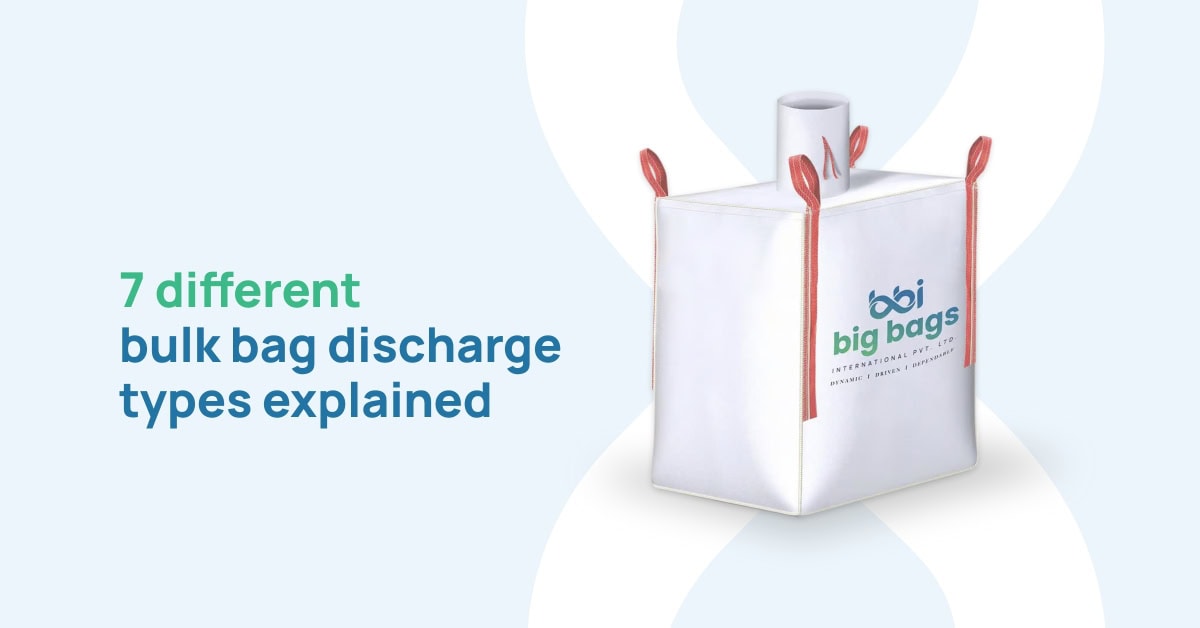 Flexible intermediate bulk containers, otherwise known as FIBC bags, bulk bags or jumbo bags, have time and again proven to be the most economical, sustainable and efficient industrial packaging material.
FIBC bag manufacturers in India offer many customization options for bulk bags. From top construction style, lamination, and lining to lifting loops and accessories, every bag can be constructed to perfectly suit each business's unique requirements.
One such crucial customization that makes difference is bulk bag discharge type.
In this blog, we will explore seven different bulk bag discharge types and explain how they work best for your applications.
Why Is FIBC
Bulk Bag Discharge
Important?
FIBC bulk bags are mainly used in food sector, agriculture, chemical, fertilizer, and construction industries to pack dry flowable material like sugar, coffee beans, grains, flour, chemical powders, sand, gravel and more.
Hence analyzing the nature of the material and selecting the appropriate bulk bag discharge type is of utmost importance.
Seven Different Types of
Bulk Bag Discharge
Determining if the nature of packaging material is compact, granular, semi-dry or fine-powdered, there's a discharge type for every business's needs. The following are the most preferred bulk bag discharge types in the FIBC industry.
1. Plain Bottom Discharge
Plain bottom bags suit industries that demand one-time-use FIBC. These bags are best for products that require fast discharge. The base of the bag is slit open, enabling an easy discharge of its contents. Hence, these bags are not reusable.
A plain bottom bulk bag is cheaper than most other FIBCs, making them economical.
2. Spout Discharge
Bottom construction styles with standard discharge spouts are the most common choice of FIBC bulk bag. Bottom construction with spouts enables a streamlined discharge of material.
Additionally, spouts can also be designed with a safety valve for controlled material discharge.
The most common discharge spout dimensions are 14″ diameter and 18″ length, but this can be customized to fit a business's storage requirement.
3. Conical Spout Discharge
A common problem with standard FIBC bulk bags is that material accumulates in the corners of the bag. A bottom construction style with conical discharge spouts is designed to solve this issue.
Conical spouts ensure all the products from the bag flow out completely without any external agitation. These bags may also be customized with a flap or safety valve for controlled discharge of bulk materials.
4. Duffle Bottom
In duffle bottom FIBCs, the entire bottom of the bag fully opens to discharge the contents of the bag immediately. These types of bags are efficient for bulk items that are clumpy and come in masses.
As there's no control over the flow of material, extra precautionary measures are to be taken when dealing with duffle bottom discharge.
5. Diaper Bottom
Also called a full bottom drop, the bottom of this bag is sewn to the bag on one end, and the other end is tied to the other side. During discharge, the flap is untied, so the bottom opens in its entirety, releasing all the product at once.
Unlike plain bottom FIBCs, these bags are reusable as the bottom needn't be sliced open.
6. Discharge Spout With Flap
Spouts facilitate a streamlined discharge of products while minimizing product wastage and spillage. The flap serves as a protective layer that keeps the contents of the bag from dust, moisture and contamination.
The discharge spout with flap can be customized with a safety valve (tie/rope) for controlled emptying of the bag.
7. Iris Closure
When a fixed connection is not required, an iris bottom discharge is best suitable. The discharge spout of the bag is pulled through the iris valve, which is then shut around the spout, restraining the flow of material.
The valve is then opened gradually, facilitating complete control over the speed of material flow, preventing any uncontrolled blasts and limiting dust from spreading through plant area.