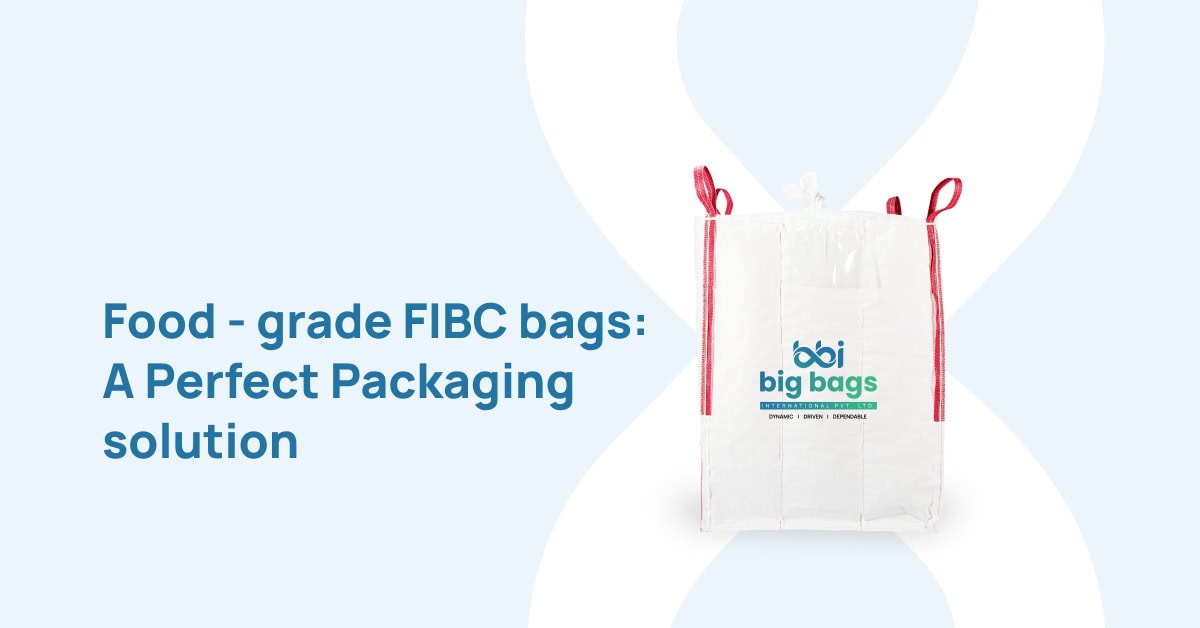 Finding the perfect flexible packaging solution can be a challenge for commercial food packaging companies. However, food-grade FIBC bags assure companies transport and store their products safely.
Flexible intermediate bulk containers (FIBCs) are also known as jumbo bags, bulk bags, super sacks, big bags, or tonne bags.
In this blog post, we'll explore what food-grade FIBC bags are and the benefits they offer for commercial food companies. We'll also look at how to pick the best FIBC bag manufacturers that offer the perfect packaging solutions for your company.
Why Is Packaging Material Play an Important Role of a Food Packaging Company's Operations?
The packaging material flow is the movement of materials from the point of receiving raw materials to the manufacturing process and then finally to the point of distribution.
Without an efficient packaging material flow, the company will most likely end up wasting money and time on materials, and employees may become less efficient due to lack of a streamlined process.
Every food company needs to think about how they should structure an efficient packaging material flow so the company can save time and money. This is where food-grade FIBC bags come in.
What Are the Benefits of Food-Grade FIBC Bags for Commercial Food Packaging Companies?
Food is too precious to allow it to go to waste, either by design or lack of knowledge about safeguarding it against elements and pests. That's why food-grade FIBC bags are such a great solution for commercial food companies.
FIBC bags are made from high-quality materials to ensure the quality and safety of your products.
Additionally, they have the following benefits.
1. Durable and Long-Lasting
Food-grade FIBC bags offer an durable and reliable packaging solution. 
Their excellent packaging properties make them ideal for food storage. They 

It gives your business the assurance that your

industrial bulk packaging

solution is reliable and your customers receive the merchandise in good condition.
2. Made From Food-Grade Fibres
FIBC bags are made from high-quality, food-grade fibres that safeguard the packed material.
3. Multiple Sizes and Colours
Food grade bulk bags are an ideal packaging solution for a range of applications due to their versatility. The FIBC bags can be of a variety of sizes and colours, making it easy to find a bag that fits the needs of the customer.
Due to their size flexibility, they take up optimum space than other storage methods like drums or rigid containers.

Additionally, they are space-saving, which means they can handle the same amount of goods without taking up as much physical space as other types of containers.

It's possible to customize the shape and size of your bag so that it meets your needs. This means you can choose lightweight options that are easy to handle and transport.
4. Easy Content Identification
Food-grade FIBC bags are perfect for industrial bulk packaging solutions due to their ability to allow easy identification of the contents of the bag.
Identifying text or symbols can be printed directly onto the bag, allowing for easier identification.
5. Affordable and Flexible Packaging
Food-grade bags are an ideal and flexible packaging solution due to their affordability and flexibility.
They are a cost-effective packaging option that can be custom tailored to suit the filling material.

After use the bags can be recycled into other plastic products to earn extra income for your business.
Food-grade bulk bags are a perfect industrial bulk packaging solution due to their lightweight.
These bags are designed to hold a variety of items while still being easy to carry and transport. This makes them ideal for short-term storage and shipment of products, as they are lightweight and can be quickly moved from one place to another.

Their lightweight design makes them perfect for busy warehouses because they can carry heavy loads and transport.
One of the best advantages of using food-grade FIBC bags is that they are the perfect packaging solution with compliance of Food Safety Regulations to meet the requirements globally.
How To Choose the Right FIBC Bag Supplier?
There are various criteria one has to consider when selecting a suitable supplier for FIBC bags bulk orders. 
We recommend choosing a certified and industry-expert bulk bag supplier who can assist you in choosing the right FIBC bag and assure you of the quality required to handle your business efficiently.
The following qualities make an FIBC manufacturer trusted and professional:
Certification

: Select suppliers who have ISO, BRC, and HACCP certifications. 

Infrastructure

: A state-of-the-art facility assures quality and prompt delivery and helps you with multiple customizations to get your desired FIBC bag.

Pricing

: Consider a manufacturer that provides you with competitive and affordable quotations.

Quality Control

: Check for a manufacturer that follows strict hygiene protocols, enforces stringent quality control measures, and performs industry-standard tests on the FIBC bags. This assures the quality of your bulk bag is uncompromised and superior.
Choose The Best Manufacturer of Food-Grade
FIBC Bags
in India
We saw how food-grade FIBC bags are the perfect packaging solution for companies with food packaging applications. They provide a safe and secure way to store and transport food products while also offering great value for money.
The Mangalore-based Big Bags International is a multiple award-winner in the FIBC sector and serves more than 1000 clients across the globe.
Big Bags International Pvt Ltd offers food-grade FIBC bags for companies with food packaging applications.
To learn more about their full range of products, visit their website.